[ad_1]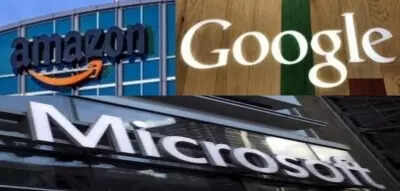 The Big Five, excluding Apple, have laid off thousands of employees in recent months. The companies – Google, Amazon, Microsoft and Facebook-parent Meta – said that the job cuts are being done to streamline business at times of economic uncertainty. A reduction in workforce is not the only common factor among these companies as all of them are making large investments in artificial intelligence (AI).
In their respective earning calls with analysts this week, all the companies talked about pouring money into the tech industry's next revolution. AI is tipped to make working efficient, which aligns with the goals of major technology companies. Here's what the CEOs of these big companies said on AI investments in their earning calls.
Google making 'good progress'
Alphabet and Google CEO Sundar Pichai said during Tuesday's earnings call that the company was making "good progress" towards its AI goals.
"We'll continue to incorporate generative AI advances to make search better in a thoughtful and deliberate way," Pichai said. The executive also noted that the company is using AI to improve the conversion rate of ads and reduce the amount of "toxic text" that goes into AI models.
Recently, the company merged Google Brain and DeepMind to create Google DeepMind to compete with companies like Microsoft and ChatGPT-maker OpenAI.
Microsoft eyes AI-driven revenue growth
Microsoft invested heavily in OpenAI and is using the company's GPT technology in its Bing search engine and Office suite. According to CEO Satya Nadella, AI will eventually drive revenue growth.
Bing's downloads have quadrupled since Microsoft added a chatbot, he said. Microsoft has also generated over 200 million images through its Bing integration.
He said that a significant amount of capital will be required to build out the massive data centers needed to run AI applications.
"We will continue to invest in our cloud infrastructure, particularly AI-related spend, as we scale to the growing demand driven by customer transformation. And we expect the resulting revenue to grow over time," Nadella said.
Amazon wants to make Alexa the best assistant
Amazon CEO Andy Jassy also talked about investments in AI at length. While responding to a question on the company's generative AI plans, he said that Amazon is building its own LLMs and designing data-centre chips for machine learning.
"These large language models, generative AI capability, have been around for a while. But frankly, the models were not that compelling until about six to nine months ago," Jassy said.
"They have gotten so much bigger and so much better so much more quickly that it really presents a remarkable opportunity to transform virtually every customer experience that exists," he added. Jassey said that LLMs accelerate "the possibility of building that [Alexa] world's best personal assistant."
Previously, he said it takes billions to train AI models and that "there will be a small number of companies that want to invest that time and money and we will be one of them at Amazon."
Meta sticking to metaverse
Meta CEO Mark Zuckerberg emphasised that despite losses in the metaverse project, the company is not giving up on this space. The company has been working on AI and machine learning technologies to power products like Facebook's news feed or ad systems.
"It's been a pretty amazing year of progress on this front, and the work happening now is going to impact every single one of our apps and services," Zuckerberg said.
The company aims to focus on using the technology, including chat experiences in WhatsApp and Facebook Messenger, tools for making images for posts on Facebook and Instagram.
"There's an opportunity to introduce AI agents to billions of people in ways that will be useful and meaningful," Zuckerberg said. He added that the technology was the "main driver" of Meta's growth in capital expenditures over the past few years.


[ad_2]

Source link